Giving the opportunity to talented and focused young individuals to realize their true potential as a sportsperson and in turn their dreams of excelling in their respective fields.
The VKF Athlete Development Program reflects Virat's dream of making India a sporting superpower and his desire to do whatever he can to facilitate the realization of this objective.
On November 11th, 2017, seven young athletes who possess the potential and passion to do the country proud in future global events were inducted into the ADP at the inaugural edition of the Indian Sports Honours in Mumbai. In 2019 ten more athletes across different sporting disciplines were on boarded. In the year 2021 VKF plans to induct 8 new athletes into the foundation.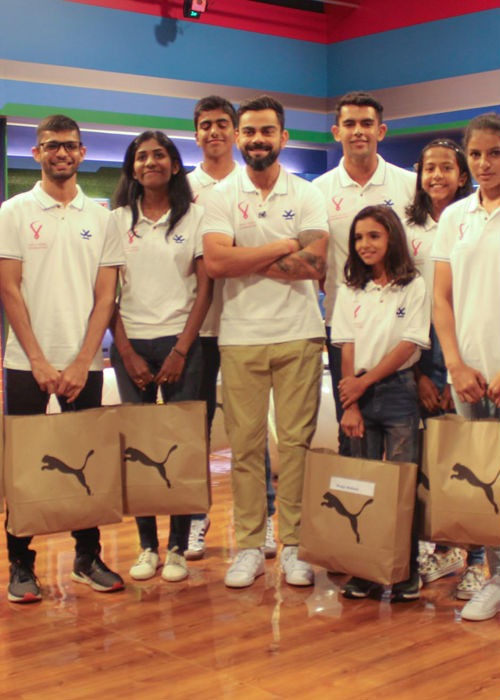 Nutrition – End to end nutrition and supplementation requirements
Travel Exposure- Airfare/ travel, accommodation, food and transport expenses for tournaments. (National and International events)
Access and Training To the best coaches / trainers / sports physios, Creating customized periodization programs for athletes.
Rehabilitation Physiotherapy & recovery training sessions, in case of injuries.
Filtering
The Advisory Council of the ADP that comprises Virat Kohli, Bunty Sajdeh and Zaheer Khan filters the shortlisted names to the final list.
Shortlisting
Sports Journalists Federation of India (SJFI) shortlists the athletes from a pool of promising talent across the country.
Monitoring
A close eye is kept on the performances of ADP athletes on a regular basis concerning parameters applicable in their respective sport.
Reviewing
The advisory board members review the profile of every athlete at the end of the year.
Conclusion
Considering all the factors, the advisory board takes a final call whether support needs to be continued, increased or discontinued.